4.2 Anamorphic or Hard Matte
This is the toughest one. Here a decision must be made, because there is no easy way to transfer the film to video without losing information. The film can be transferred as it is, leaving black bars at the top and bottom of the picture. This is called letterboxing. On new 16:9 television sets the visible black bars are much smaller even for a very wide film like this (with an aspect ratio of 1:2.35).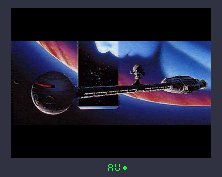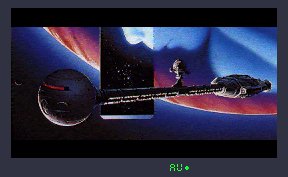 Some people tend to think letterboxing makes their little TV sets seem even smaller, and they hate it for that. That's why almost all widescreen movies have been made to fill the little TV screen with one way or another.
A simple way to make an anamorphic film fit on a TV set is to just leave the anamorphic lense out, and everything in the original picture is stored on video. Unfortunately, all people become thin and distorted, but this has been done, and still is, from time to time. Actually, Philips' CD-I depends on a 10% distortion in aspect ratios to make CD-I both NTSC and PAL compatible. The effect is just too horrible to show you, so I won't do it.
Another way is to focus the video camera on the center of the film screen, and show you the centre of the movie. This is called cropping, and it isn't such a great idea, because you'll miss everything happening in the side ends of the picture, and may become totally clueless when, say, an empty table talks by itself.
The mostly common way to solve the problem of anamorphic films is the so-called panning and scanning. The person responsible for film to video transfer is able to show you any part of the screen. This way he may let you concentrate on the action with the price of not letting you see anything that person has thought was unnecessary. Be aware, that with a movie shot in 2.35:1 and shown pan & scan full screen, you'll lose over 40% of the original picture area. Some movies don't suffer too much (Pink Floyd's The Wall) while other become totally inwatchable (The Good, the Bad and the Ugly). Here is an example of a pan & scan picture: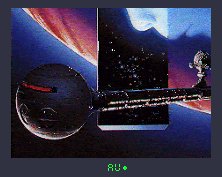 In some countries, like Finland, the subtitles appear superimposed over the picture, which makes the watcher lose more than 50% of the original picture area.
The worst scenario I have seen was someone watching a pan & scan transfer of a film on a 16:9 television set. In this scenario the watcher loses 57% of the original picture area, so there really is not much left of the original cinematography: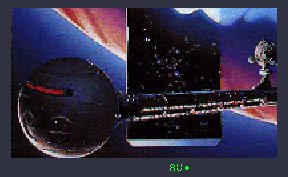 And take my word for this: The subtitles on that film took 1/4 of what was left, and I just left laughing.
If you want to know more about letterboxing widescreen films, MGM's Letterbox Page is extremely useful. Also some good examples of how Pan & Scan differs from full letterboxed widescreen can be seen at The Letterbox Advocacy Page.